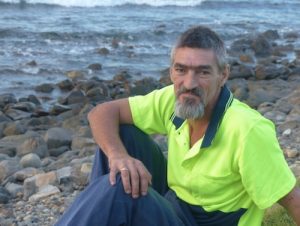 My name is Doug Squires and I am a proud Aboriginal man from Dharug and Kamilaroi language groups. I have been an artist for over thirty years and love to paint using acrylics to create my designs. I was taught to paint by an Aboriginal man that had been taught by an Aboriginal man and so the techniques that I use have been used to generations.
I place most of my designs onto wooden surfaces and use earth tones to tell my stories. I mostly share my paintings with family and friends but have had a number of my art pieces purchased. My paintings have found their homes both within Australia and also overseas. I have also been commissioned to complete a number of larger artworks that can now be enjoyed be a wider audience. I also value community in all that I do and work in schools teaching art to the next generation to come.
I was quite excited when asked to place my artwork onto The Yarning Circle Indigenous products range and look forward to the journey ahead.
Connection to Others




This artwork depicts two U shapes and the concept shows the connections that we have to each other, such as a friendship. The colours are earth based and show how the energy of the earth is intertwined with our energy. Through this design you can see that we are connected to each other and the land that we walk on.