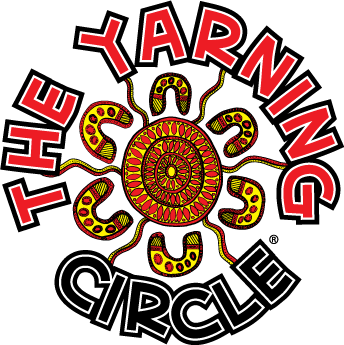 Welcome to the Yarning Circle!®
Publisher of innovative educational and communication programs
Our passion is giving children and adults the chance to have a true voice and be heard. The Yarning Circle® is a place where stories and knowledge can be shared in a caring environment that's relaxed and comfortable.
This is the Yarning Circle®'s range of authentic Australian educational materials:
A verbal activity needing no written material, and capturing the ethos of Aboriginal Yarning Circles. Empower the group you belong to by giving a voice to its individuals.
Strengthen and develop the inner self by reflecting on the Qualities, Talents, Abilities, Gifts and Skills (QTAGS) that we acquire throughout life's journey.
Read a little about who we are, where we came from, and where we're going. We'd like you to come too!
I would like to introduce our new range of Aboriginal products that can now be purchased online here at the The Yarning Circle. The products consist of large canvas shoulder bags, leather and canvass I Pad cases and lens screen cleaning cloths. All of our products have Aboriginal arts work that has been taken from an original piece of Indigenous art. Why not check out the bios of the artist that your chosen design comes from.
The canvas shoulder bags are large and strong enough to hold a laptop as well as all of the items that you would need for your next meeting, school day or your everyday activities. The bags are approximately 380 x 300 mm in size and they are currently being used for: Office bags, School bags, Nappy bags, Hand bags, Laptop bags, Document bags and Gifts to others!
Let your imagination run free and see what you can use the bags for. The bags have an easy adjustable strap that allows them to be used by young through to Elders.
The leather and canvas I Pad cases come in matching deigns to the bags and the Lens cloths. They come in varies sizes model 1, 2, 3, I Pad Air and I Pad mini so pick the one that suits your needs and why not purchase the matching shoulder bag and lens cloth.
The lens screen cleaning cloths are a must have by anyone with a computer or I Pad. They come in matching deigns to the shoulder bags and I pad cases. The lens cloths are approximately 175mm x 140mm in size.
So make your pick, then mix and match the design and products that suit you and head to the checkout.
Thank you for your purchase and enjoy your new culturally designed products.